WellnessRE™ PRO helps Real Estate Professionals connect with more people by providing unique and engaging Done-For-You marketing tools so you can start more conversations about real estate, stand out and attract more clients.
Real Estate Marketing Unlike Anything You've Seen Before
WellnessRE™ PRO offers you so much more than generic real estate social media templates. We provide you with a wellness lifestyle magazine that focuses on wellness in real estate and teaches readers how to create a healthy home. This allows you to talk about real estate more often, connect with more people, and show others you care.
What is Wellness Real Estate?
For the last 20 years, forward-thinking developers around the country have been building communities intentionally designed to support healthier living.
According to the Global Wellness Institute, Wellness Real Estate
has nearly doubled since 2018 and as of November 2021 is worth $275 Billion dollars globally.
Leverage this growing trend toward wellness
and show your audience you care.
WellnessRE™ PRO is here to help you do that.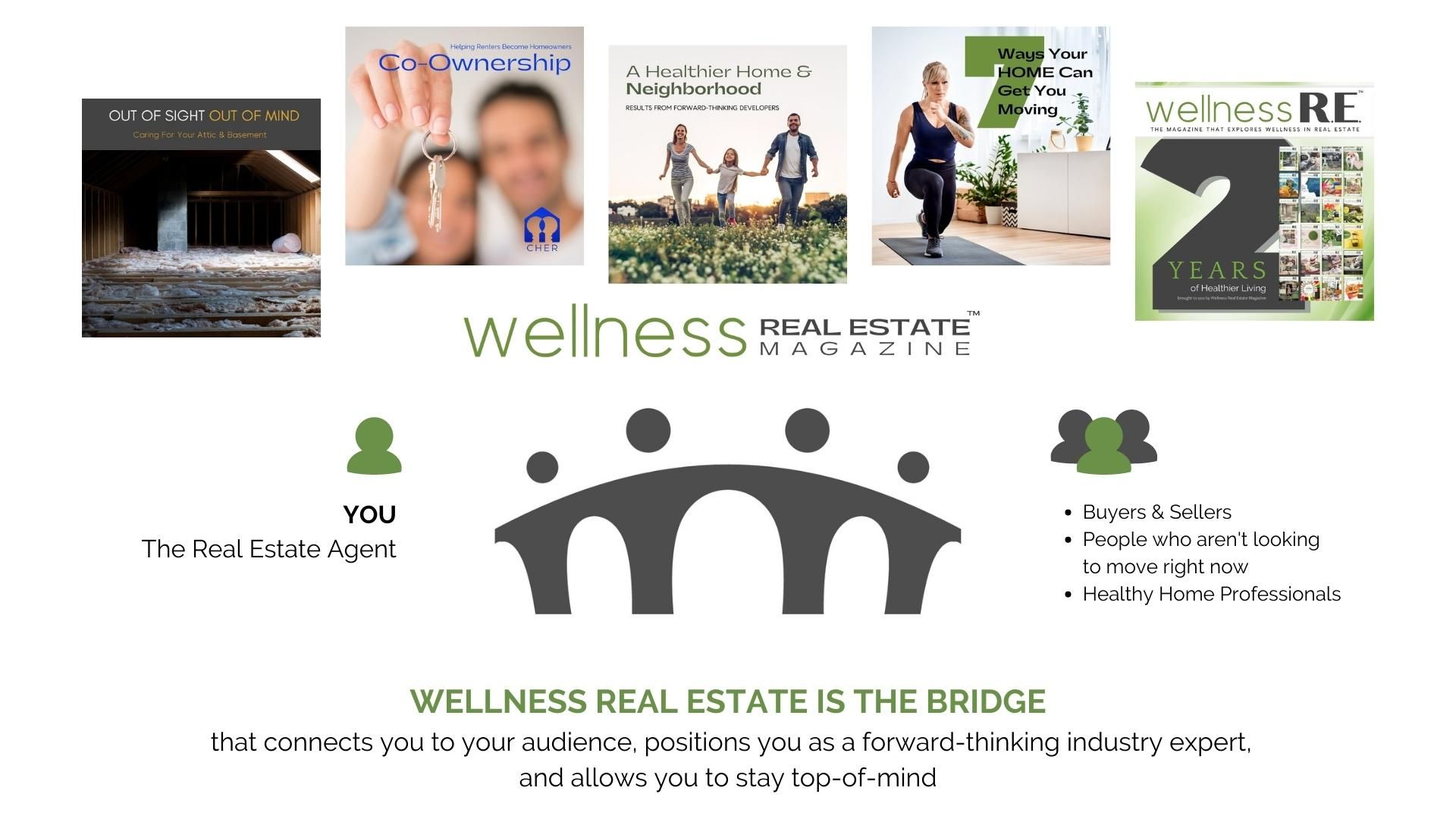 Tori M.
⭐️ ⭐️ ⭐️ ⭐️ ⭐️
WellnessRE™ Magazine has helped me grow my brand significantly! I have a whole group of followers that now look forward to reading new issues every month. They actually thank me for sharing tips with them on creating a healthier home!
Christina M.
⭐️ ⭐️ ⭐️ ⭐️ ⭐️
"A big Mahalo to Sheila for having the courage in the middle of a pandemic to put together a robust online Wellness Real Estate Magazine for us to share with our friends and family. I have found it very helpful for our business and a thoughtful gift for our clients. These articles, social media posts and content are so relevant to our current times, educational for the sustainable enthusiast and reinforces the green and healthy home niche our team has moved into. I truly support all she is doing and wish her many successes as we start this next year together!"
Trish F.
⭐️ ⭐️ ⭐️ ⭐️ ⭐️
"WellnessRE™ Magazine is the perfect value-add that today's clients are looking for from a real estate agent. This digital magazine provides compelling, informative and relevant content in an elegant format every month - it's a powerful branding tool for me. My clients love it; even my friends and family love it!"
Everyone deserves
to live in a healthy
home environment.

Be the agent who shows them HOW
with this unique and engaging set of marketing tools
that keep you top of mind
and helps you stand out.